English Study Guide for Key Stage 2
By Mark Haslam and June Hall
---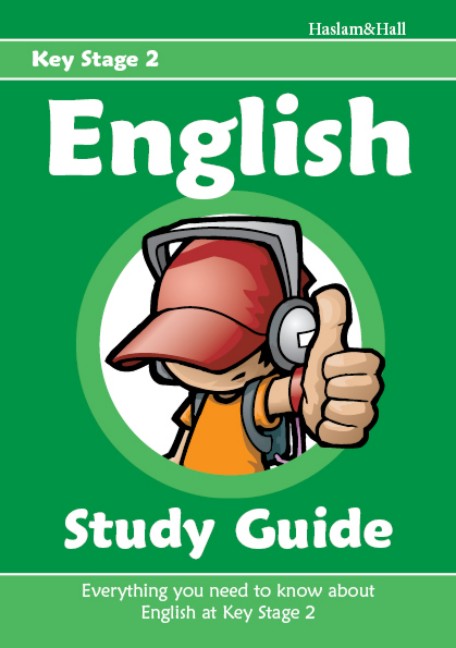 Book code: K2ESG
ISBN: 978-0-9560677-1-5
This handy guide tells you everything you need to know about English at Key Stage 2. It has been updated to match the new National Curriculum and is ideal for supporting learning in class or to help with homework. Key features include:
Key features include:
Colourful Pages - with lots of fun characters
Key Facts - everything you need to know
Examples - show you exactly what to do
Tips - give you advice along the way
Warnings - help you avoid common mistakes
Quick Quizzes - check you've understood each topic
Average customer rating:

(5/5) (See reviews)
Schools wanting to be invoiced please click here.
Also available on

Customer reviews

Reviewed by Eunus Ali, Teacher


Reviewed by Stella, Pupil
this book really helped me for my sats 1 year ago even if i am reviwing now

Reviewed by Anonymous, Pupil
AMAZING!!!! i love this book

Reviewed by Alfredo Ogari, Pupil


Reviewed by Anonymous
gonna do sats in few weeks and i think i have really improved cause of the book so thank you very much

Reviewed by Mrs Ciment, Teacher

Reviewed by Giru, Pupil
it's really good.

Reviewed by Zak, Pupil
oh my i love this book it helpeed me with my SAT'S love the book the websites and thee authors- mark haslam and of course june hall

Reviewed by Ahmed R Abdussamad, Pupil
yo this book is sick it helped with all the things and + wat bargainn 2 quid each cant believe it good for sats revision cheers. recommended!!!!!!!!!!!

Reviewed by Anonymous, Pupil
It was so great. I couldnt belive how much stuff it had on there i was amazed. It helped me with everything

Reviewed by Ell, Pupil
BEST BOOKS EVER. Me and my mum loved them

Reviewed by Katherine Brown, Parent
this is a very encouraging and easy to read guide. it serves the dual purpose of being a vital guide for children at school, and also a helpful refresher for parents!

Reviewed by Arthur Howard, Teacher
Great books! Clearly set out and easy for the children to understand.

Reviewed by Wendy Taylor, Parent
My daughter is just starting KS2 so I bought this and the maths guide and have found them both clear and easy to understand as well as being appealing to look at and quick quizzes a good way of checking understanding.

Reviewed by Mrs McLoughlin, Teacher
A great summary of all the important bits at Key Stage 2.

Reviewed by Miss Pierce, Teacher
I've just received my copy and am very impressed. Clear, concise explanations backed up with interesting examples.
---